Ways To Get Through


The Holidays

The best way to make it through the holiday season is motivation, planning, and execution. CB PT will help you with the motivation, planning, and execution of the exercising component but what about the rest?! This is where the help of a certified Health Coach comes in. CB PT recommends that clients work with a Health Coach for added support in reaching their fitness, nutrition and life goals. Many times personal training clients and their family members complain of lack of motivation, of frustration with diets that don't work, and and about concerns about stress, lack of energy, and well being. Join with the rest of CB PT clients that are currently seeing success from working with Tammy Lyons Health Coach. Below is a workout that will help you livin' up your exercise routine, to the side is a way to work with Tammy and experience the changes that you have been waiting for.


The following workout consists of 4 circuits, each two be done twice. They each start with a large muscle group then are followed by a supporting muscles group then finish with a core exercise. This full body workout will help you ramp up your routine and hopefully get you on a good foot towards the holidays. Good luck and please contact CB PT if you have any questions! (Contact Info)

Do the following exercises in order and repeat. Do the circuit with minimal rest between the exercises, less rest equals a higher cardio level. Above all BE SMART, if you are unsure if you can do the exercise then use the easier variation or if that still seems hard then contact CB PT.



Circuit # 1 - Do 1,2,3 then repeat 1,2,3

1. Bosu Pushups: 12 to 15 reps.
Easier Variation: Pushups on floor
Harder Variation: Pushups w/ feet raised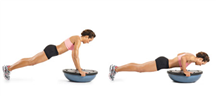 2. Squats w/ Shoulder Press: 12 to 15 reps. Squat down with weights on shoulders. Stand up lift weights above head.
Easier Variation: Don't do a squat, just bend knees


Harder Variation

: Do a Bicep Curl then to press.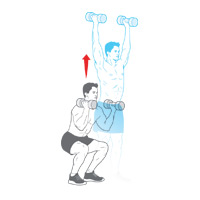 3. V-ups: 12-15 reps. Lean back, lift legs up and raise chest towards feet. Use ball between legs to help stabilize.
Easier Variation: Keep knees bent instead of straight.
Harder Variation: Don't use your hands on the ground.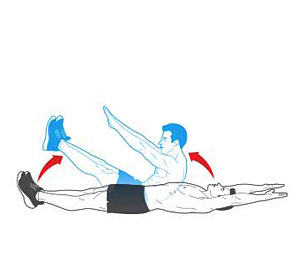 ---

Circuit #2: Do 4,5,6 then repeat 4,5,6.

4. Chin Ups: max to 15 reps. Form is key. If you form seems off or it's extremely hard, do the easier variation. If you can do 10+ consider doing the harder variation.
Easier Variation: Lat Pulldown w/Band or machine
Harder Variation: Do a pullup (palms facing away)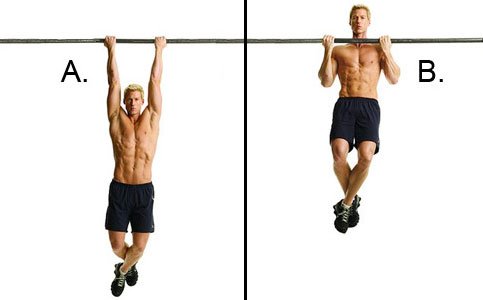 5. Ball Slam w/Squat: 15 reps. Lift ball up above head, slam down to ground ending in a squat postition. Throw ball 2 ft in front of body do not arch back when you stand up straight.


Easier Variation:

Don't do the squat just the slam
Harder Variation: Once ball hits jump up, land soft.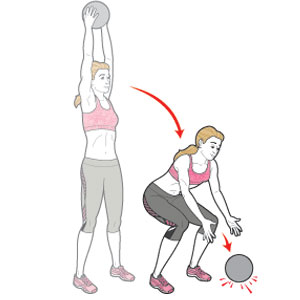 6. High Plank: 30 Seconds. Keep body straight. There should be no pain in back or shoulder.
Easier Variation: Use a ledge, instead of ground.
Harder Variation: Alternate lifting one leg.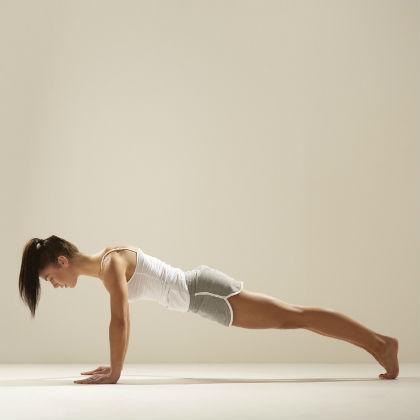 ---

Circuit #3: Do 7,8,9 then repeat 7,8,9.

7. Chest Press w/Dumbbells: 12-15 reps. Keep feet on bench, weight directly over chest when you press up.
Easier Variation: Low weight high reps
Harder Variation: higher weight low reps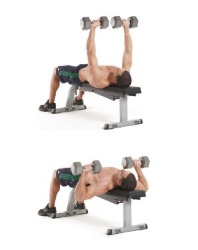 8. Lunge w/ Shoulder Press: 12-15 reps each side. Step back and down with right foot, weights near shoulders. then stand up and raise weights above head. Do a lighter weight since you are doing 30 shoulder presses.
Easier Variation: Don't go down as far
Harder Variation: Hold it at bottom, just press.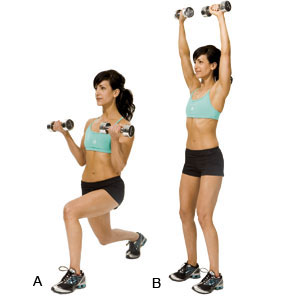 9. Pike on Ball: 10 - 15 reps Put feet/shins on ball. You will be in a plank postion. Lift butt up and draw ball towards you, keep legs straight. The more of you legs that are on the ball the easier it will be.
Easier Variation: Start w/straight legs end with bent legs towards chest.
Harder Variation: When you roll in end with just the tips of your toes on the ball, like shown.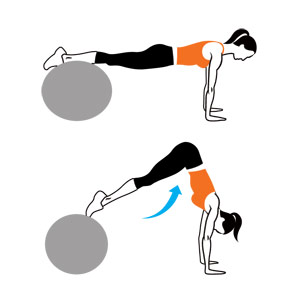 ---
Circuit #4: Do 10,11,12 then repeat 10,11,12

10. Row with Single Deadlift hold: 12-15 reps. Do a single leg balance then lean forward, extending the right leg back. Keep the back straight, abs tight, do a one arm row with left arm, pull towards stomach.
Easier Variation: keep a hand on a chair.
Harder Variation: Bend the knee more.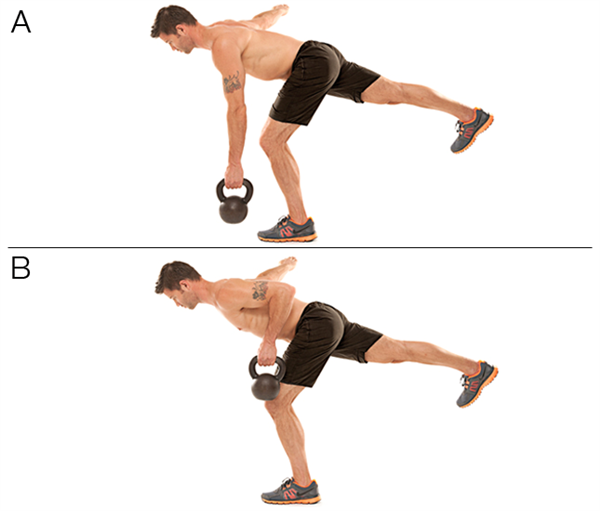 11. Ball Leg Curls: 15 reps. Put legs on ball, use hands to stabalize, curl in towards butt.
Easier Variation: Keep legs straight, just lift butt up and down.
Harder Variation: Stay in position B and lift butt up and down.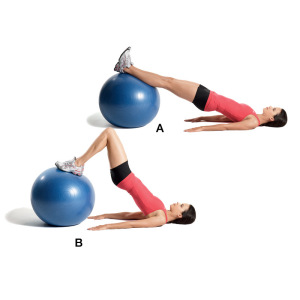 12. Side Plank: Hold for 30seconds. Keep elbow under shoulder, keep hips up and in line with body. Do both sides
Easier Variation: Bend the knees to 90 degreees, knees rest on ground.
Harder Variation: Lift top leg up and down.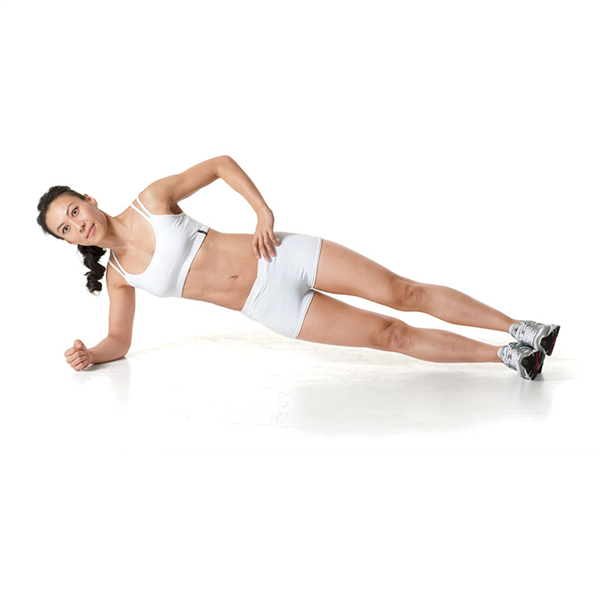 ---
Stretch for 5 -10 minutes
---
NOTE TO READER: Please remember that all exercise should be based off of each participant's ability level. If you are unsure as to whether these exercises are adequate for your ability please contact CB PT

PRIOR

to starting. As always consult a doctor or medical professional before starting any new exercise program especially if you have a higher than average risk for injury or a high cardiovascular risk factor.
This Year Give the Perfect Gift!

Stop looking for that perfect gift. Give the gift that everyone wants this year. The most thoughtful gift to give a friend, family member, or yourself is wellness! A gift of Health Coaching Sessions is the perfect gift for someone trying to live a healthy life. Tammy Lyons Health Coach assists her clients in reaching their wellness goals in areas such as:


A Health Coach is your personal quarterback, a personal health assistant and a true motivator that can finally help you overcome your long held plateaus. If you or a loved one are in a funk or are in need of changing their lifestyle in order to save their health, decide to take the leap and seek the help of a certified Health Coach.
Tammy Lyons' approach is a holistic approach to health and wellness, which means that she looks at how all areas of life are connected. Tammy brings a sensible approach to fitness and health while creating a personalized road map to your health that suits your body, lifestyle and goals. With a certification from the highly respected Institute for Integrative Nutrition from NYC.
Help yourself, your friends, and your loved ones find the wellness that is hiding within themselves. Take the next step and contact Tammy Lyons Health Coach, today.
---
** SPECIAL HOLIDAY PROMOTION **
FREE One Hour Consultation
3 One Hour Sessions
Only $150 (A value of $300)
Introductory sessions make a great gift, gift cards available.
*offer expires 12/15/2013
---

(609) 462 - 6364
www.TammyLyonsHealthCoach.com
TammyLyonsHealthCoach@gmail.com
Recipe Of The Month

---
Prep time: 5 minutes
Yield: 1 cup
Ingredients:
1/2 cup tahini
1/4 cup water
3 tablespoons lemon juice
2 tablespoons tamari
2 tablespoons maple syrup
1-2 cloves of garlic, minced pinch of cayenne (to your taste)
Directions:
1. In a bowl briskly whisk together the tahini and water until combined. It will look separated at first: just keep whisking!
2. Add remaining ingredients and whisk until combined.
3. Adjust flavors to your taste. Add additiional water if you want it thinner.
4. Serve over grains and greens.
Note: Tahini sauce keeps refrigerated for up to one week.
---