Sculpting the Butt!





This month CB PT is bringing you a combination of glute/butt exercises that are guaranteed to work your butt. Every butt is not created equal so some may need less of this work or more, please take what you feel is appropriate. When doing these exercises I like to do all of them on one side (say the left side first) then all of them on the right. This way you can really work the leg without having to put heavy weight and risk exposing yourself to injury and "bulking". Have fun and let me know how it goes! ( Charles@CB-PT.com )

1. Single Leg Squat from Seated Position: Sit down on a bench and stand up. Its that simple yet its not that simple to do! Make sure that when you sit down your knee is NO LOWER than 90 DEGREES. That's very important. Also, the leg that is off the ground does not have to be straight.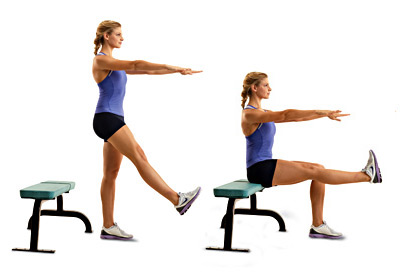 2. Reverse Lunge : This is similar to doing a forward lunge however it is VERY different. Start in the standing position [A] then step back with your left leg (your left leg will be doing the work). Make sure that you lean forward a little bit, towards your knee. Your front knee should be at 90 degrees, that's very important. You should feel this in your butt/hamstrings. If you feel it in your quad (front of leg) adjust your form.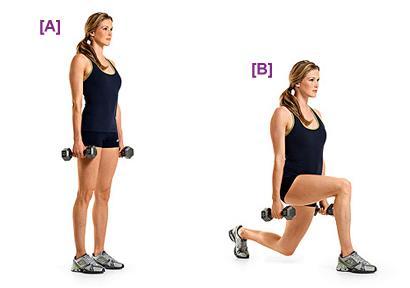 3. Single Leg Hip Bridge: Now that your butt is starting to get tired its a great time to use these lower intensity sculpting exercises. Lay on your back with knees bent. Lift the butt up and down, your one leg will be up in the air, the one that is on the ground is the leg working.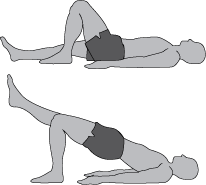 4.

Side Glute Leg Lifts

:

This is a very basic leg lift which should be perfect if you did exercises the previous exercises. If it is too easy after all of those then try something fun... Instead of just lifting the leg up and down draw your name in big upper case letters!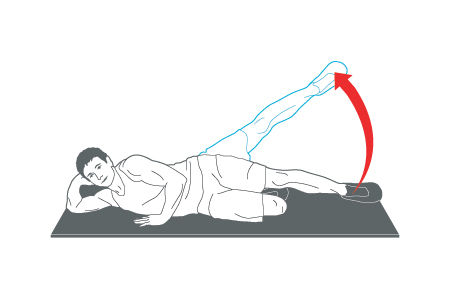 Remember to train to your abilities. If you have never done any exercise before then the Single Leg Squat, and Reverse Lunge, will be too hard. These exercises are intended for experienced people who have hit a "Glute Plateau". If you are unsure on whether or not these are appropriate for you please contact Charles for advise. www.CB-PT.com.



Be Real About Your Eating and Fitness


Unrealistic expectations can be a total roadblock in achieving your goals. Avoid setting yourself up for what you may feel is failure. Begin managing your expectations and setting achievable and sensible goals. The foods you choose to eat in a day affect so many parts of your life, your energy level, body, skin, mood, the list goes on. If you are starting your day eating the wrong thing for you, you are doomed from the start.
Count on your Health Coach and Personal Trainer

for professional guidance and support, you are not alone, don't judge yourself during this process, you are only human, hick-ups happen, do your best and be confident in the fact that if you

take this one day at a time and manage your expectations,

you will achieve your goals and you will feel and look better because of it! Take a breath now. Relax and care about yourself. Be realistic about the changes you want to occur.
Remember that you want to be "well", that means a lifetime of good health and energy, not just fitting into your swimsuit this summer. In order to sustain wellness, you'll need to be realistic and develop an exercise and nutrition plan that is just for you, one that is consistent with what you do and who you are.

Get to it!

Twitter: @tlyons1313
Facebook: Tammy Lyons Health Coach
"What are you doing that's good for you today"?
This month's featured workout is made for a busy spring break kind of schedule. When your time gets tight your workouts have to adjust. The following workout is a condensed full body workout that uses primarily large muscle groups to push the heart rate up while working all of the major muscles.
Remember: If you are new to exercise, or haven't personally worked with CB Personal Training before

please seek professional advise and/or a doctor'ds approval before attempting any exercise.
Warm Up: 5-10 minutes on Treadmill
1. Pushups- 3 sets (12-15 reps)

2. Squat Jumps- 3 sets (12 reps)

3. Lat Pulldown- 3 Sets (12 reps)

4. 1 Leg Squats- 3 sets (12 Reps)

5. Dumbbell chest Press on Ball
2 Sets (12 Reps)

6. Ball Leg Curls- 2 Sets (15 Reps)
7. Seated Rows- 2 Sets (12 Reps)
Roll Ups

Stretch
Each exercise should be done in a traditional manner. Example: You do one set of pushups (exercise 1) then take 20 seconds then do another set of pushups then....
You would do this until you are to the ab set section. Do 10 reps of all of those once from top to bottom.
*For further information on how to preform this workout with the correct form contact Charles at:
to schedule a private consultation.
www.cb-pt.com/Workouts.html
Cheesy Lasagna Rolls with Spinach and Ricotta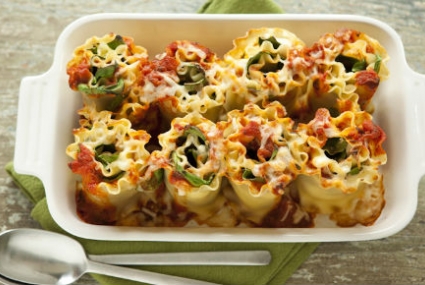 Serves 4 to 6
Kids love this dish and thankfully it's easy to customize to their tastes. Start with the basic recipe then add cooked sausage, pepperoni or black olives, if you like. Little hands can spread the cheese or sauce, sprinkle the fillings or roll up the pasta.
Ingredients
Salt

1/2 pound (8 to 10) uncooked lasagna noodles

Nonstick cooking spray

1 cup ricotta cheese

1 1/2 cup prepared marinara sauce

1 1/2 cup packed baby spinach

1/2 cup shredded mozzarella
Method
Preheat oven to 400°F. Meanwhile, bring a large pot of salted water to a boil, add noodles and cook until al dente, 8 to 10 minutes. Drain well and gently transfer to a clean work surface.

Grease a small roasting pan or casserole dish with cooking spray; set aside. Working with one noodle at a time, spread with about 2 tablespoons of the ricotta and 2 tablespoons of the marinara then top with spinach. Starting at one end, roll up noodle snugly then arrange in pan either seam-side down or with the rolls close enough together to hold each other closed. Pour remaining marinara over assembled rolls then sprinkle with mozzarella and bake until golden and bubbly, 20 to 25 minutes.

Nutrition
Calories: 350

Total Fat: 11 g


Sodium: 670 mg

Cholesterol: 35mg

Carbohydrates: 47 g

Protein: 16g

This recipe was featured on the Whole Foods website at:
http://www.wholefoodsmarket.com/recipe/cheesy-lasagna-rolls-spinach-and-ricotta
Watch For Upcoming:

Canal Walks
Hikes
Workshops
Lectures
Play Ground Group Classes!