Summer Workout

Achieving your goals is all about consistency and time. In order to reach your goals you must constantly be adjusting your workouts in order to fit into your life. During the summer months people often complain of not having enough time to fit in their typical 5 days a week (3 cardio days and 2 strength training days). As well as getting out of cardio shape since it is "too hot" to run outside. Have no fear! This month CB PT will be showing you a full body upper body, core, and cardio maintenance work. The first component to the workout consists of 20-30 minutes of cardio maintenance followed by 15 minutes of fast paced upper body/core circuits and ending with 5 minutes of stretching. This short and full body workout can be done 2-3 times a week, adding another 2 days of casual walks will put you safely in the "enough exercise" category. Please remember that reaching your goal is about planning, determination, and above all consistency. Good luck and please contact CB PT if you have any questions! (Contact Info)

Part 1: Cardio Maintenance

Start with 5 minutes of a warmup. Followed by a moderate amount of cardio either on a machine, running, or vigorous walking. Moderate amount means the duration of your short cardio days (no more than 30 minutes) with the intensity of your hard cardio days. Remember you will get more cardio as you do the following circuit.


Part 2: Upper Body & Core Circuits

Do the following exercises in order and repeat. Do the circuit at least two times with minimal rest between the exercises, less rest equals a higher cardio level. Be sure not to push too hard.



1. Pushups: 12 to 15 reps. If floor pushups are too hard then do them off of a ledge.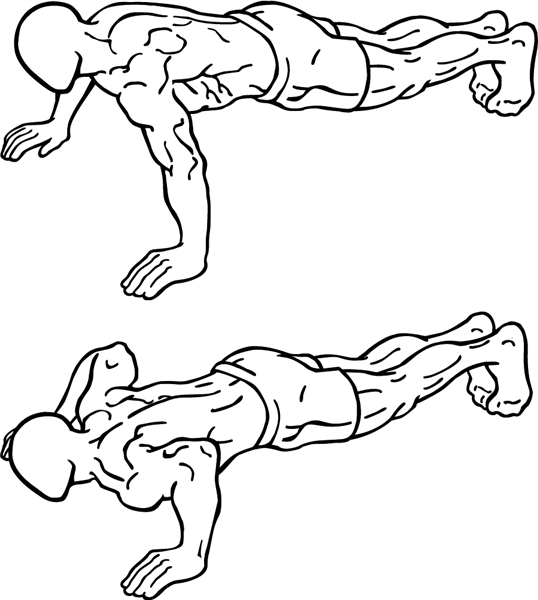 2. Lat Pull Downs: 12-15 reps. If you can do 5 pullups then do pullups. Otherwise do a Lat pull down using a machine or band.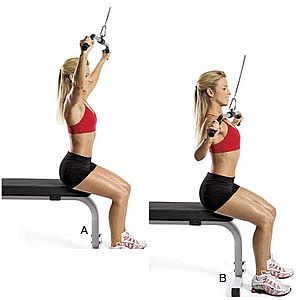 3. Leg Lifts: 12 to 15 reps. Make sure to engage your abs and keep your back flat. If your next gets tired support you head with your hands.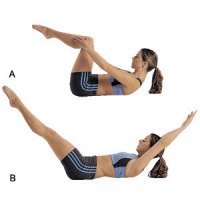 4. Dumbbell Chest Press: 12 to 15 reps. Use a weight that you can safely get into position with.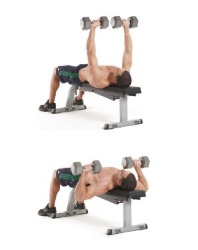 5.Seated Row: 12 to 15 reps. Use a machine or band and sit on a bench, ball or ground.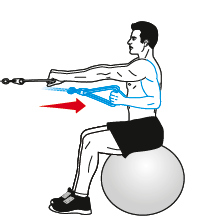 6.V-Ups: 10 to 15 reps. These are more advanced. If they are too much then leave your feet on the ground and roll up and reach for your feet with your hands.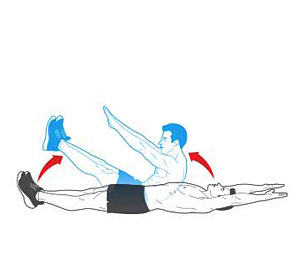 7.Shoulder Presses: 12 to 15 reps. Unlike the photo keep one foot back (staggered stance). It's best to use a lighter weight. Be careful if you have shoulder issues. If so do a tricep pulldown instead.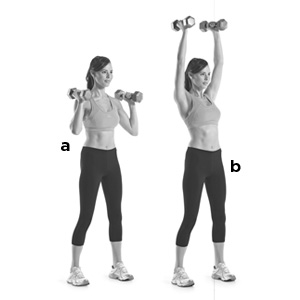 8.Bicep Curls: 12 to 15 reps. You could use a band or dumbbells for this one.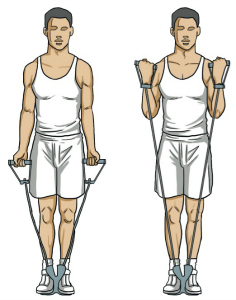 9. Plank: 30 seconds. If 30 seconds isn't hard enough then experiment with lifting each foot up, alternating after a couple of seconds.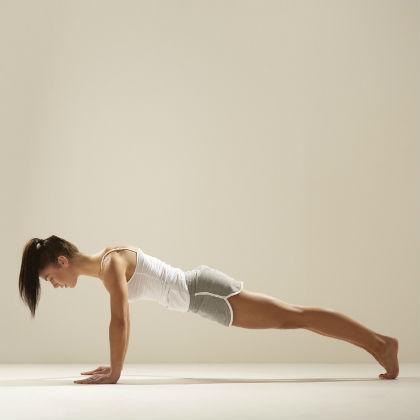 10. Rest: If you haven't done so already, take a break for 1 minute then repeat.
3. Stretch for 5 -10 minutes
NOTE TO READER: Please remember that all exercise should be based off of each participant's ability level. If you are unsure as to whether these exercises are adequate for your ability please contact CB PT

PRIOR

to starting. As always consult a doctor or medical professional before starting any new exercise program especially if you have higher then average risk for injury or a high cardiovascular risk factor.
Food Focus: Water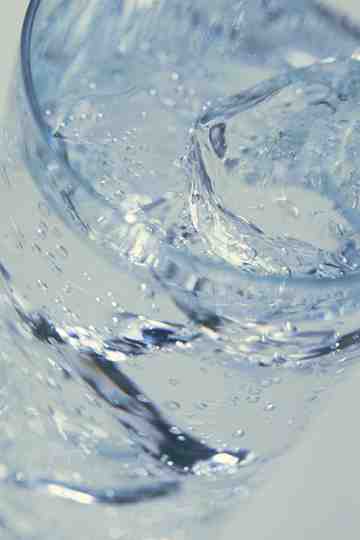 Most of us are aware of the importance of drinking enough water. Getting our daily dose of water helps our organs perform their functions, keeps our skin clear and hydrated, and allows physical action in our bodies to flow smoothly. Even with this knowledge, it can still be challenging to drink all the water our bodies deserve daily. In the summer, when we tend to play hard, sweat and spend prolonged time in the sun, drinking plenty of water is critical. Those who are not drinking enough may experience poor digestion, sluggish thinking, skin breakouts, headaches, bad breath and general fatigue.
To start your day right, set a large glass of water by your bed each night and drink it when you wake up. Drinking water first thing in the morning pulls out toxins from the previous day and freshens your system for the day ahead. Keep a bottle of water accessible throughout the day, whether you are on the go or at a desk. Having a bottle of water close by will remind you to take a sip when thirsty. The first sip will usually let you know how much more water you need. A sip or two may be enough, or you may need a big glass. If you drink most of your daily water before early evening, you most likely will not be thirsty before bed. This is good, because drinking before bed and then waking to use the bathroom disturbs your peaceful night's sleep.
What about quality? Some people like bottled water, while others prefer filtered water. The key is to like the taste of the water you are drinking, and the water should agree with your body. If the taste of plain water is unappealing, experiment to see how you can make it tasty and drinkable. Try adding a few mint leaves, a wedge of lemon, a sprig of parsley, slices of cucumber, a twist of lime or a squeeze of orange to make water more tempting, or to jazz up your routine. Also, drinking tea or juice and eating raw fruits and vegetables contribute to the hydration process. So, splash in the waves, swim in the sun, drink plenty of water and enjoy the summer fun!
Summer is often a time for serious play, time off and deep relaxation. Many of us use the summertime to rebuild our reserves for the rest of the busy year. In our work-crazed society we can lose sight of the benefits of slowing down and taking time to rest. Now that summer is in full swing, it's time to enjoy the restorative powers of reconnecting to your body through movement and relaxation.
The body loves to move. Even though our body is healthiest when it is getting appropriate physical activity, we often feel dread and boredom when we hear the word "exercise". Think for a moment of what type of movement you would consider fun as opposed to torturous. Perhaps you loathe the idea of a gym, but miss taking dance classes. Maybe you secretly want to try yoga or rollerblading. You could play touch football with your kids, walk with a neighbor in the mornings or go for a swim. The summer offers so many choices – it's simply up to you to choose which style of movement excites you. Your heart will thank you, your soul will be gratified, your limbs will be more fluid and you'll sleep better at night.
Summer is a unique time of year when we can do both our relaxation and our movement out in nature. Take a nap in a hammock and enjoy the smell of freshly cut grass. Go to the park and meditate or read under a favorite tree. One of the greatest places to rest in the summertime is by the water. There is something magical and restorative in water, and we naturally crave to be near it, by it or in it. Heading to the water, whether it is the beach, a lake or a kiddy pool, can be relaxing and rejuvenating.
Whether you are relaxing, exercising or both, notice that being outside in nature has a profound way of quieting the mind and reconnecting us to ourselves. Often this relaxation and peace of mind are what our bodies crave the most. So while summer is with us, strap on your sandals and enjoy the rich elements of sun, wind and water and the nourishment that they bring.

(609) 462 - 634
www.TammyLyonsHealthCoach.com
TammyLyonsHealthCoach@gmail.com
Recipes to try
Ginger Drink
Prep Time: 7 minutes
Cook Time: 24 hours
Yield: 6-8 servings
Ingredients:
1 pound fresh ginger root
2 quarts water
juice of 2 limes
maple syrup or agave nectar to taste
Directions:
1. Thinly peel the fresh ginger, grate and mix with water in a large saucepan.
2. Bring to a boil and simmer for 4 minutes. Cover the pan and turn off the heat; leave
for 24 hours.
3. Strain the liquid through a fine mesh sieve.
4. Add the lime juice and maple syrup or agave. Stir until dissolved. Serve chilled.
Citrus Salad
Prep time: 5 minutes

Yields: 4 people
Ingredients:
2 hearts of romaine lettuce
2 fresh oranges and/or grapefruits
2 tablespoons brown rice syrup
2 tablespoons cider vinegar
1/3 cup extra-virgin olive oil
1/2 cup roasted almonds, slivered
Directions:
1. Wash and chop lettuce and place into large bowl.
2. Cut off skin from oranges and/or grapefruits by cutting off top half, remove skin in strips, working all the way around the fruit from top to bottom. Cut along the side of the membrane to remove the sections of the citrus fruit.
3. Combine brown rice syrup with vinegar and stream in extra-virgin olive oil, stirring constantly.
4. Pour dressing over the lettuce, season with sea salt and pepper and toss.
5. Serve on individual plates; lay fruit on top of lettuce and garnish with almonds
Upcoming Events
CB PT will be bringing back many outdoor training options for the Fall. Such as:
Walking the Canal w/Tammy Lyons
Intro to Running w/CB PT

Playground Bootcamp w/CB PT
Hiking the Canal w/CB PT
Look for CB PT's next email for Locations, Dates, and Times of these Outdoor Training Classes!
Also Coming Soon...
Health and Wellness Book Club - A Princeton based book club surrounded by your neighbors reading books that help us expand our mind and body.